Senior squad member
Posts: 117
Location: Hereford
hartpuryrfc.co.uk/rfc-news/hartpury-commit-to-the-championship/
Moderator
Posts: 8971
Location: Probably in the bar....
and fixtures announced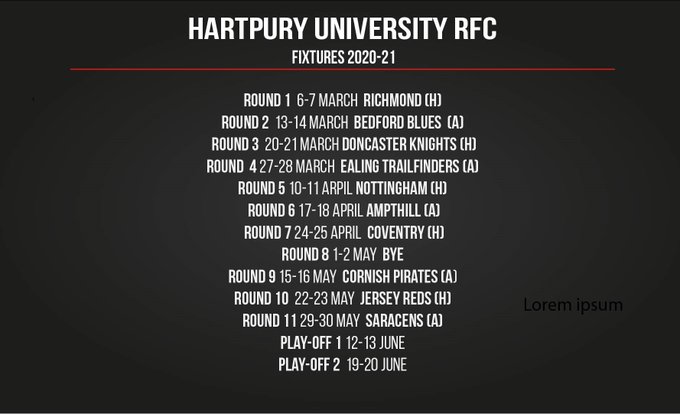 Have they gone through another name change to Hartpury University RFC, weren't they just Hartpury RFC last season?
I'd love to agree with you, but then we'd both be wrong....
Hall of Famer
Posts: 3910
Location: Moonraker Capital
Round 11 - could they be the ones to keep Saracens down?
'He sent his men all over England' - William I Gloucester 1086
Rounds 2, 6 & 11 are geographically nearest me.. if allowed to go by round 11, I think that would be something to see..
Hopefully, this text should be smaller and less prominent than the words above it...
Senior squad member
Posts: 103
The name was changed to Hartpury University RFC after Hartpury was granted university title in 2018.
Hall of Famer
Posts: 1083
Location: Northants
---