TOBIAS wrote:Being in the Criminal Law business all my working life I have always had a problem with verdicts. A jury has to be sure that the pros have proved their case or not as the case may be. A guilty verdict may not actully mean somone is actally guilty as charged lkewise if someone is found not guilty it may not mean that they are. This is all within the province of the seleted jury. I have had many cases over the years when I thought a clinet had no chance but have been acquitted likewise when I thought the evidence didn`t stack up there have been convictions. My point is that I do like the Scottish version of not proven but I doubt very much that this alternative will ever be introduced in ths Country. Just my opinion and I wouldn`t know what my felow profesionals would opine
My father and I discussed this at length and agree with you. Also listened to a ton of podcasts regarding the pros and cons of the Jury System, which is an incredibly interesting subject in of itself.
In Ackermann we Trust.
Posts: 1082
Hall of Famer
Lebowski wrote:I would actually agree, although frankly this rather ceased to be a rumours thread months ago.

Personally I would like us to have two rumours threads; one for Glos and one for other stuff, and for them to be kept fairly sanitised, although that may be unrealistic. I say this because like many others I suspect I have very little interest in rumours about other clubs.
+1 Hope you're well Leb.
Posts: 579
Hero in the making
Sheddy Mcshedface wrote:Or, and this is a bit wild but stick with me, we have a rumours thread for rumours and people start threads for other topics as and when they become relevant?
It will never catch on!!!

Posts: 2149
Hall of Famer
I've just scrolled through Twitter to see a picture of someone in a full Gloucester kit with Fearns #8 on the back. The tweet claims that it is Carl Fearns with his agent. They seem to be in an airport in the picture. Typically you can't see his face as his back is facing the camera. I'm not sure what to think, make of this what you will: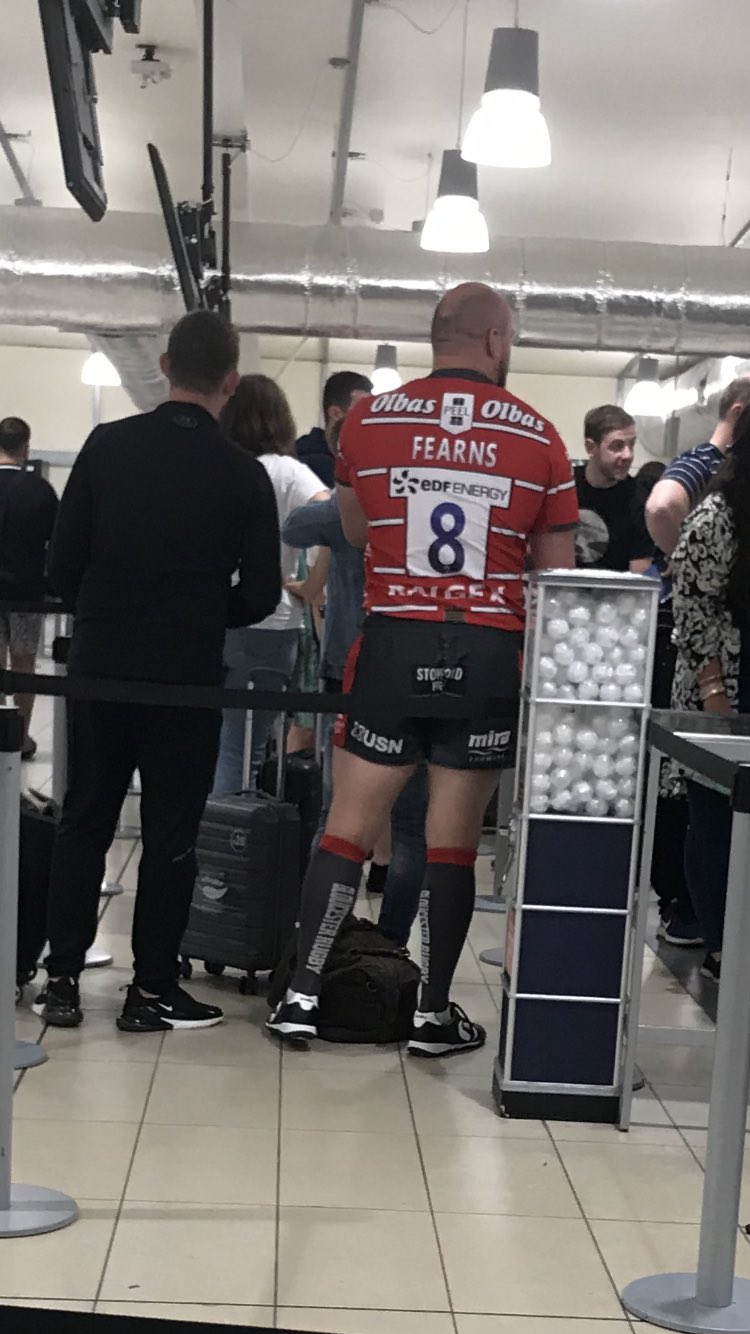 Posts: 2243 Location: Gloucester
Hall of Famer
Looks like a stag do to me
Posts: 715
Hero in the making
Very niche fancy dress?
Posts: 55
First team regular
Rumour that Kwagga Smith could be off to Edinburgh. I know he was someone Shedweb got excited about as part of the SA recruitment.

It does feel like we are pretty well stocked at backrow at present though.
Posts: 55
First team regular
NorthernShedHead wrote:Looks like a stag do to me
I can't believe anyone would think any different, great stag do idea if you have someone who looks like him.
I remember the tweet because I think Carl Fearns replied with something like 'Come and get me Eddie!!'.
Posts: 131
Senior squad member
Good morning #Glawsfamily
Posts: 2022
Hall of Famer
---